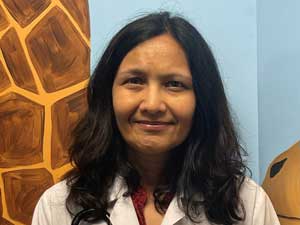 Dr. Shilpa Shah completed her MBBS degree in 1991 in Mumbai, India. After brief training in Radiology and Ob/Gyn she moved to the US in 1993 to join her husband. She completed her Pediatric Residency Training at Nassau University Medical Center, NY and Texas Children's Hospital/Baylor College of Medicine, Houston, TX in 1997.
Dr. Shah worked in primary care in the Atlanta area until 2002 after which she moved to North Carolina with her husband and 2 children. After working at a private pediatric clinic in Burlington, NC until 2007, she joined Lincoln Community Health Center in Durham, NC where she worked until June 2020. She is certified in level 2 Triple P (Positive Parenting Program) and was the Medical Site Coordinator for the Reach out and Read Program at Lincoln. Additionally, she was the Medical Coordinator for Early Childhood Initiatives sponsored by the Oak Foundation from 2013-2016 at Lincoln.
Dr. Shah moved back to Atlanta, GA in 2020 with her husband and joined Dekalb Pediatric Associates in April, 2021. She cares for pediatric patients from newborn to adolescent. She is board certified by the American Board of Pediatrics and is proficient in Spanish, Hindi, Urdu, Marathi and Gujarati and is currently working on learning Nepali. She takes great pleasure in the diversity and cultural abundance among our patients and their families. She strongly believes that staying closely connected to one's native language and culture significantly enhances children's academic and social growth. She passionately advocates for dedicating 5-10 minutes of family time to activities such as reading, cooking or playing together. This serves to reinforce family bonds and nurture the emotional and social well-being of children.
Outside of her professional commitments, Dr. Shah enjoys reading, exploring Atlanta area parks and trails and learning new skills.